Contact tracing, CDC politics, and more
America faces data gaps everywhere from contact tracing to reality TV.
Welcome back to the COVID-19 Data Dispatch, where we ask, "Where are the data?" in fun and creative ways.
This week's issue comes to you in a slightly different format: I'm tackling contact tracing, the CDC, racial disparities, and The Bachelorette, all in shorter sections. Plus: a plug for a conference session that I'm leading this coming week!
As always, shares are appreciated. If you were forwarded this email, you can subscribe here:
---
Contact tracing: Too little, too late, no public data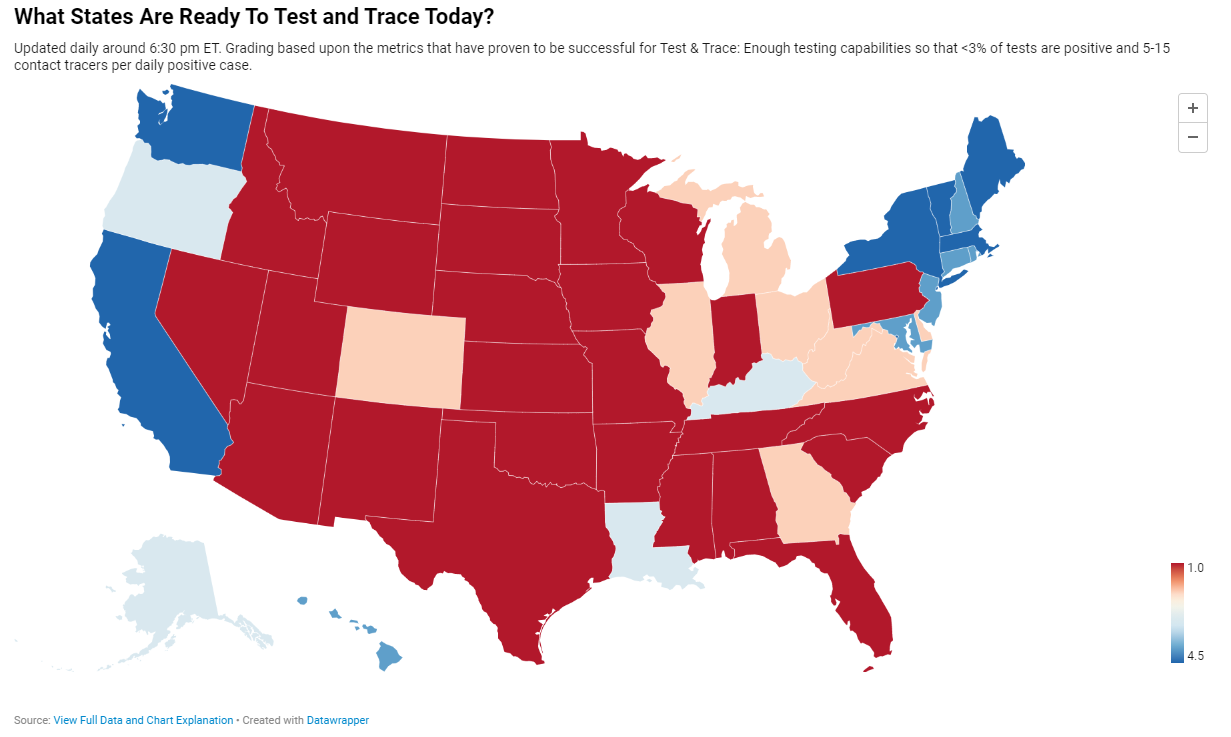 Most states are not ready to find and trace all of their new COVID-19 cases as the country heads into a new wave of outbreaks.
Screenshot via Test and Trace, taken on October 18.
On October 1, a little over two weeks ago, I received an email from New York Governor Andrew Cuomo's office.
The email invited me to download a new COVID-19 phone application, developed by the New York State Department of Health along with Google and Apple. The app, called COVID Alert NY, is intended to help New Yorkers contact trace themselves. (Side note: I am not entirely sure how Cuomo's office got my email, but I suspect it has something to do with the complaints I left about his budget back in June.)
Here's how Cuomo's office describes the app:
COVID Alert NY is New York State's official Exposure Notification App. This is a free smartphone app available to anyone 18+ who lives and/or works in New York. The app uses Bluetooth technology—not location data—to quickly alert users if they have been in close contact with someone who has tested positive for COVID-19. Once alerted, users can quickly protect themselves and others by self-quarantining, contacting their physician and getting tested.
The app is intended to fit into New York's contact tracing efforts by automatically informing app users that they have been exposed to COVID-19 and prompting them to take the necessary precautions. It also features a sypmtom checker, which asks users to note if they have exhibited a fever, cough, or other common COVID-19 symptoms, and a page with the latest case and testing data for every county in New York.
Contact tracing, or the practice of limiting disease spread by personally informing people that they have been exposed, has been a major method for controlling COVID-19 spread in other countries, such as South Korea. But in the U.S. the strategy is—like every other part of our nation's COVID-19 response—incredibly patchwork. We have no national contact tracing app, much less a national contact tracing workforce, leaving states to set up these systems on their own.
Back in May, I researched and wrote an article for Stacker about this problem. I compared contact tracing targets, calculated by researchers at George Washington University, with the actual numbers of contact tracers employed in every state, compiled by the public health data project Test and Trace. GWU's estimates started at a baseline 15 contact tracers per 100,000 people, then were adjusted based on COVID-19 trends in every state. Now, this story should be seen as a historical snapshot (the summer's Sun Belt outbreaks hadn't yet started when I wrote it), but it is telling to scroll through and see that, even several months into America's COVID-19 outbreak, the majority of states had tiny fractions of the contact tracing workforces they needed to effectively trace new cases. New York, for example, had a reported 575 contact tracers employed, compared to an estimated need of over 15,000 contact tracers.
Today, many states are doing better. New York is up to 9,600 contact tracers, according to Test and Trace's latset counts, and has planned to hire thousands more. This state, along with Massachusetts, New Hampshire, New Jersey, Connecticut, Vermont, and Washington D.C., has received high marks from Test and Trace's scoring system, with 5 to 15 tracers employed for every new positive COVID-19 case. But all of these high-scoring states are in the Northeast, where COVID-19 outbreaks peaked in the spring. The Midwestern states currently seeing spikes, such as Wisconsin and Missouri, all rank far lower on their preparedness to trace new cases. (See the screenshot above.)
Meanwhile, actual data on the efficacy of these contact tracers are difficult to come by. To continue using New York as an example: since the application's release on October 1, New York's Department of Health has not released any data on how many people have downloaded the application, much less how many positive cases have been logged or how many contacts have been traced. Data have neither been mentioned in Cuomo's press releases nor have they appeared on the state's COVID-19 dashboard.
According to tech website 9to5Mac, as of October 1, 11 states had registered contact tracing apps with Google and Apple's exposure notification technology. These states include Alabama, Arizona, Delaware, Nevada, New Jersey, North Carolina, North Dakota, Pennsylvania, Virginia, and Wyoming, as well as New York. Six more states have apps in development.
A brief analysis by yours truly found that, of those 11 states with contact tracing apps, only four post contact tracing data: Delaware, New Jersey, North Dakota, and Wyoming. Delaware and New Jersey both have dedicated data pages detailing the share of COVID-19 cases which have successfully participated in the state's contact tracing efforts (57% and 71%, respectively). North Dakota and Wyoming both post statistics on their cases' source of COVID-19 exposure, including such categories as "contact with a known case," "community spread," and "travel"; these data must be sourced from contact tracing investigations. 11.1% of North Dakota's cases and 27.1% of Wyoming's cases have an exposure source listed as "unknown" or "under investigation," as of October 18. Meanwhile, Pennsylvania and North Carolina have both posted statistics on their contact tracing workforces, but no data on the results of these workforces' efforts.
Other states without registered apps may also be posting contact tracing data. But it is still a notable discrepancy that, among the states that have systematic contact tracing technology, tracing results are lacking. Compare these states to South Korea, which at the height of its outbreak publicly posted demographic information and travel histories for individual COVID-19 cases in alerts to surrounding communities. South Korea's approach has faced criticism, however, for reporting private information about people who tested positive.
And that brings me to the biggest weakness for American contact tracing: lack of public trust. Americans, more than residents of other nations, tend to be concerned about personal privacy and, as a result, are more wary of speaking to strangers on the phone or using an application that sends their data to the government, even if all those data are anonymized. Olga Khazan explained this issue in an article for The Atlantic, published in late August:
Still, contract tracing depends on trust, and many Americans don't trust the government enough to give up their contacts or follow quarantine orders. Of the 121 agencies Reuters surveyed, more than three dozen said they had been hindered by peoples' failure to answer their phone or provide their contacts. About half of the people whom contact tracers call don't answer the phone, because they don't want to talk with government representatives, Anthony Fauci, the director of the National Institute of Allergy and Infectious Diseases, said during a June news conference.
Black and Hispanic or Latino communities are particularly likely to distrust the government and avoid contact tracers' calls. This attitude makes sense, given how both America's government and medical systems are inexorably tied to racist histories. But for the public tracers hoping to help these communities—which have been disproportionately impacted COVID-19—it's another barrier to stopping the virus' spread.
Even I, as someone who understands more about the need for contact tracing than the average American, am wary about using New York's COVID Alert app. The app asks me to turn on both Bluetooth and location data, and even though COVID Alert purports to be anonymous, Twitter, Instagram, and other applications have made no such promises. So far, I have been using the application when I go to the park, grocery shop, or ride the subway, but for the vast majority of my days it sits dormant on my phone.
And of course, I have to wonder: where was this app in March, when the city shut down and my neighborhood filled with ambulance sirens? Like most other parts of America's COVID-19 response, contact tracing has been scattered and dificult to evaluate, but the data we do have indicate that most states are doing too little, too late.
---
CDC's failure to resist political takeover
This past week, two outlets published major investigations of the Centers for Disease Control & Prevention (CDC). The first story, by Science's Charles Piller, focuses on White House Coronavirus Task Force Coordinator Dr. Deborah Birx and her role in the hospitalization data switch from the CDC to the Department of Health and Human Services (HHS). The second story, by ProPublica's James Bandler, Patricia Callahan, Sebastian Rotella, and Kristen Berg, provides a broader view of internal CDC dynamics and challenges since the start of the pandemic.
These stories do not focus on data specifically, but I wanted to foreground them this week as crucial insights into how the work of science and public health experts is endangered when powerful leaders prioritize their own narratives. Both stories describe how Dr. Birx disrespected and overrode CDC experts. She wanted data from every hospital in the country, every day, and failed to understand why the CDC could not deliver. The ProPublica story quotes an anonymous CDC scientist:
Birx expected "every hospital to report every piece of data every day, which is in complete defiance of statistics," a CDC data scientist said. "We have 60% [of hospitals] reporting, which was certainly good enough for us to have reliable estimates. If we got to 80%, even better. A hundred percent is unnecessary, unrealistic, but that's part of Birx's dogma."
As I explained in this newsletter's very first issue, in July, the CDC's hospital data reporting system was undercut in favor of a new system, built by the software company TeleTracking and managed by the HHS. Hospitals were told to stop reporting to the CDC's system and start using TeleTracking instead. The two features published this week tie that data switch inexorably to Dr. Birx's frustration with the CDC and her demand for more frequent data at any cost.
Public health experts across the country worried that already-overworked hospital staff would face significant challenges in switching to a new data system, from navigating bureaucracy to, in some cases, manually entering numbers into a form with 91 categories. Initial data reported by the new HHS system in July were fraught with errors—such as a report of 118% hospital beds occupied in Rhode Island—and inconsistencies when compared to the hospital data reported out by state public health departments. I co-wrote an analysis of these issues for the COVID Tracking Project.
But at least, I thought at the time, the HHS system was getting more complete data. The HHS system quickly increased the number of hospitals reporting to the federal government by about 1,500, and by October 6, Dr. Birx bragged at a press briefing that 98% of hospitals were reporting at least weekly. As Piller's story in Science describes, however, such claims fail to mention that the bar for a hospital to be included in that 98% is very low:
At a 6 October press briefing, Birx said 98% of hospitals were reporting at least weekly and 86% daily. In its reply to Science, HHS pegged the daily number at 95%. To achieve that, the bar for "compliance" was set very low, as a single data item during the prior week. A 23 September CDC report, obtained by Science, shows that as of that date only about 24% of hospitals reported all requested data, including protective equipment supplies in hand. In five states or territories, not a single hospital provided complete data.
Piller goes on to describe how HHS's TeleTracking data system allows errors—such as typos entered by overworked hospital staff—to "flow into [the] system" and then (theoretically) be fixed later. This method further makes HHS's data untrustworthy for the public health researchers using it to track the pandemic. The agency is working on improvements, certainly, and public callouts of the hospital capacity numbers have slowed since TeleTracking's rollout in July. Still, the initial political media storm created by this hospitalization data switch, combined with the details about the switch revealed by these two new features, has led me to be much warier of future data releases by both the HHS and the CDC than I was before 2020.
Just as the White House boasted, "Our staffers get tested every day," in response to critiques of President Trump's flaunting of public health measures, the head of the White House Coronavirus Task Force wanted to boast, "We collect data every day," in response to critiques of the country's overburdened healthcare system. But testing and collecting data should both be only small parts of the national response to COVID-19. When scientists see their expertise ignored in favor of recommendations that will fit a chosen political narrative, public trust is lost in the very institutions they represent. And rebuilding that trust will take a long time.
---
New, shareable graphics from the COVID Racial Data Tracker
Twice a week, the COVID Tracking Project's COVID Racial Data Tracker compiles and standardizes demographic data from every U.S. state and territory. I am intimately familiar with this work because I'm one of those volunteers. I watch the numbers tick up and, inevitably, paint a clear picture of how centuries of racism have left people of color more vulnerable to this pandemic.
This week, the COVID Tracking Project's web design team launched a new feature that makes our demographic data more accessible to readers. It's called Infection and Mortality by Race and Ethnicity: simply click on a state or territory, and the feature will return a chart that compares COVID-19 cases and deaths to that region's population.
Here's the chart for the U.S. as a whole:
Adjusting case and death values by population makes it much easier to see disparity. For example, while Native Hawaiians and Pacific Islanders are a relatively small fraction of America's population, they are much more likely to contract the novel coronavirus. Meanwhile, Black, Hispanic/Latino, and indigenous Americans are more likely to die of the disease.
These charts are easy to share on Facebook, Twitter, and Instagram, and the graphics will be updated automatically when our data updates twice a week. Volunteers who work on this part of the Project are hoping that these charts can make it easier for people to draw attention to COVID-19 disparity in their communities, as well as to the data that are still missing in many states. For example, here's me yelling about New York.
Check out the chart for your state, and if you feel compelled, share it. We need people talking about these data in order to drive change. (Also: shout-out to product lead Neesha Wadhwa and other design folks working behind the scenes at the COVID Tracking Project who made these charts possible!)
---
How did the Bachelorette test contestants?
This week, for the first time since I was peer-pressured into watching the Bachelor franchise two-ish years ago, I listened to a recap podcast.
To be clear, this was not your typical Bachelor franchise recap podcast. The hosts did not judge contestants on their attractiveness, nor did they speculate about the significance of the First Impression Rose. Instead, it was POLITICO's Dan Diamond and Jeremy Siegel, discussing COVID-19 safety precautions and public health messaging as seen on The Bachelorette. They were inspired by this tweet, which apparently garnered more attention than Diamond had anticipated:
They also talked about the NBA's championship bubble. It was a pretty fun episode—highly recommend. But the episode got me thinking: neither this podcast nor the Bachelorette season premiere itself mentioned what kind of COVID-19 tests the contestants were taking, how often they were tested during the show, or any data from the show's filming.
As I explained last week, differentiation between the various COVID-19 tests now available is a major gap in American public health messaging. Everyone from White House staffers to the patients at my neighborhood clinic wants to be tested with the fastest option available, and they want to do it without going onto the FDA's website and reading through every test's Emergency Use Authorization (EUA). It's crucial for anyone publicly talking about testing to get specific about what kind of tests they're using and why—this type of messaging will help people make their own educated decisions.
The Bachelorette had an opportunity to not only show average Americans the COVID-19 testing experience, but to also explain which tests are more useful for particular situations, and, yes, explain how to interpret some COVID-19 data. In interviews with Variety and The Hollywood Reporter, producers on the show described how contestants went through regular testing with the "full nasal test" and undertook quarantine measures. But first of all: the "full nasal test" could refer to one of about 40 nucleic acid and antigen tests which have received EUA, and second of all, talking in general terms about your show's testing protocol makes it hard for a journalist like me, much less for an actual public health expert, to evaluate what you did. And, most importantly, it only gives the TV show's millions of viewers a general idea of the options available to them when they need to get tested themselves.
The best thing I could find on Bachelorette testing, through some pretty targeted Google searches, was a headline from the Nashville Scene reading: "The Bachelorette Recap: Testing Positive for Love." Which, honestly? I'm glad someone used that joke.
What I'm saying is, I want a Bachelorette COVID-19 dashboard. I want numbers of all the tests conducted, I want to know their manufacturers, I want a timeline of when the tests happened, and I want to know all of the test results. If anyone reading this has a contact at ABC… hook me up.
---
I'm running a session on data journalism!
This coming week marks Science Writers 2020, an annual conference by the National Association of Science Writers and the Council for the Advancement of Science Writing. It's virtual this year, of course, allowing for more schedule flexibility: instead of a few packed days of sessions, conference events have taken place throughout October, with the majority of panels and workshops coming up this week.
One of those sessions was organized by yours truly! I am running a combined workshop and panel on data journalism for science writers; it'll be like an interactive version of the feature I wrote for The Open Notebook back in July. We'll start with a brief introduction of data journalism, then I will walk through one of the Workbench tutorials I developed for TON, and then a panel of speakers will answer questions about their own data reporting experience. The focus isn't nominally on COVID-19 data, but as both I and two of the panelists (Jessica Malaty Rivera and Sara Simon) have COVID Tracking Project experience, I anticipate that the topic will come up.
As this session is part of the Science Writers conference, it is only available to registered attendees. But I'm hoping to share a few insights from the discussion in a future newsletter.
If you're attending the conference, I hope to see you there! And if you're not, please send some positive vibes my way at 11 AM EST on Wednesday. 284 people are "attending" the event on Whova, as of my last check, and I'm getting pretty nervous.
---
Featured data sources
These sources have been added to the COVID-19 Data Dispatch resource list, along with all sources featured in previous weeks.
---
COVID source callout
This weekend, the Wisconsin Electronic Disease Surveillance System is going down for maintenace. The state is not updating any "COVID-19 visualizations" (meaning: any publicly reported COVID-19 data) from Friday, October 16 to Monday, October 19.
Routine maintenance is a good and useful thing to do. But one has to wonder, did Wisconsin need to do this now, while the state is experiencing a record outbreak? How many cases are we going to see on Monday when Wisconsin resumes its reporting? I shudder at the thought.
---
More recommended reading
My recent Stacker bylines
News from the COVID Tracking Project
Bonus
---
That's all for today! I'll be back next week with more data news.
If you'd like to share this newsletter further, you can do so here:
If you have any feedback for me—or if you want to ask me your COVID-19 data questions—you can send me an email (betsyladyzhets@gmail.com) or comment on this post directly:
Fill out my survey to share your topic suggestions and questions:
This newsletter is a labor of love for me each week. If you appreciate the news and resources, I'd appreciate a tip: